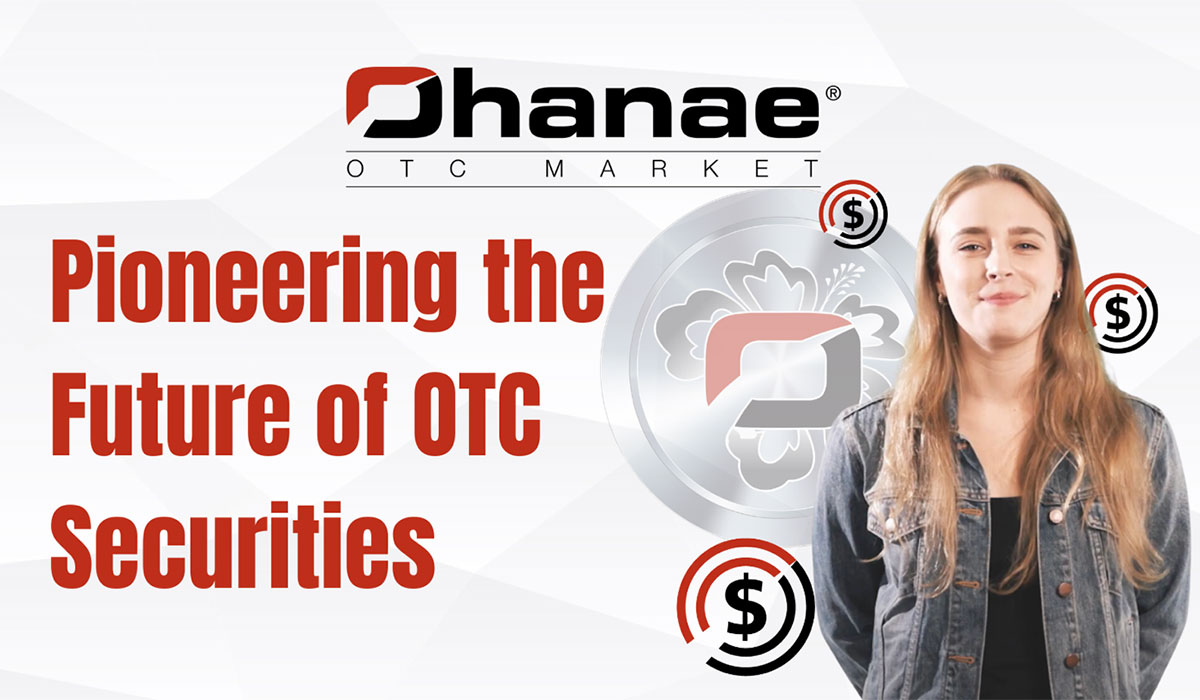 Published on July 21, 2023
---
Introduction:
In the ever-evolving landscape of Over-the-Counter (OTC) Securities, challenges and limitations have hindered the full potential of this market. However, Ohanae, a game-changing company founded and led by Greg Hauw, is poised to reshape the future of OTC Securities. This whitepaper delves into the challenges faced by the OTC Securities landscape and how Ohanae's Web3 approach using blockchain and DeFi technologies will revolutionize the industry. Ohanae's OTC Market Platform, powered by cutting-edge solutions, aims to enhance transparency, streamline transactions, and create a vibrant ecosystem for investors and companies. Join us as we explore how Ohanae's competitive advantage, revenue drivers, and Reg A+ process position the platform to unleash the true potential of OTC Securities, paving the way for a new era of investment opportunities.
Challenges and Limitations of the OTC Securities Landscape
The OTC Securities landscape, known for its flexibility and unique opportunities, faces several challenges and limitations that demand innovative solutions:
Flexibility and Complexity: OTC Securities facilitate direct trades but introduce regulatory nuances and complexity.
Elevated Risk Profile: While offering flexibility, OTC securities have been associated with higher risk levels.
Reliance on Intermediaries: The reliance on intermediaries introduces counterparty risks and higher costs.
Outdated Infrastructure: The outdated infrastructure hiders efficiency and accessibility for all investors.
Web3 for Capital Markets: Embracing Transformation
Ohanae embraces the transformative power of Web3 technologies, including blockchain and DeFi, to reshape the OTC Securities landscape:
Eliminating Centralized Intermediaries: Web3 removes centralized intermediaries, reducing counterparty risks and inefficiencies.
Enhancing Transparency and Security: Blockchain ensures secure and transparent transactions, reducing fraud potential.
Streamlining Settlement and Asset Ownership: Smart contracts automate settlements, expediting processes.
Broader Access to Fractional Ownership and Tokenized Assets: Tokenization allows access to diverse assets and fractional ownership.
DeFi Solutions for Non-Stop Trading: Ohanae's DeFi solutions enable continuous trading opportunities.
Ohanae OTC Market Platform: Shaping the Future of Investments
Ohanae introduces its OTC Market Platform, driven by blockchain-powered innovation:
Blockchain-Powered Security: A permissioned blockchain network ensures secure and efficient transactions.
Ohanae Coin ("OUSD"): Frictionless trading using Ohanae's native deposit coin.
Tokenization of Securities with OHANA: Equity tokens representing tradable assets on the blockchain.
Atomic Settlement for Instant Trades: Instant and secure transactions for fast settlement.
Automated Market Maker ("AMM"): Enhancing liquidity and price discovery.
Security and Compliance: Private key protection and regulatory compliance ensure safety.
Unleashing the Power of Ohanae: Competitive Advantage
Ohanae's competitive advantage lies in leveraging Web3 technology for a seamless investment experience:
Seamless Web3 Integration: 24x7 trading with real-time settlement.
OHANA Equity Tokens: Tokenized issuance for enhanced liquidity.
Ohanae Coin ("OUSD"): Simplified acquisition of equity tokens.
Add Funds Flexibility: Convenient funding methods for a hassle-free experience.
Ohanae ATS - 24x7 Trading: Continuous trading availability for a vibrant market.
Blockchain-based Security: Advanced security measures for asset protection.
Unveiling the Competitive Landscape: A Comprehensive Analysis
Ohanae's standout features compared to competitors OTC Markets Group and StartEngine:
Tokenized Issuance: Enhanced liquidity and accessibility with tokenized assets.
Non-Stop Trading (T+0): 24x7 trading for unparalleled flexibility.
Automated Market Maker: Efficient and automated market pricing.
Deposit Coins for Payment & Settlements: Seamless integration for user convenience.
Atomic Settlement: Instant and secure transactions.
Security and Compliance: Trust and confidence through robust security measures.
Revenue Drivers: Ensuring Sustainable Growth
Ohanae's revenue model to sustain platform growth:
Equity Crowdfunding Administrative and Compliance Fee: Facilitating compliant fundraising.
Success Fee for Successful Companies: Aligned incentives with successful clients.
Listing on Ohanae ATS using Reg A+ Exemption: Offering a vibrant listing ecosystem.
Listing and Digital Transfer Agent Services Fees: Robust listing and transfer services.
Real Estate Investment Facilitation: Additional revenue streams for the platform.
Unveiling the Reg A+ Process and Costs: Empowering Your Journey
Explaining the Reg A+ process and associated costs to empower fundraising campaigns:
Audit, Legal Services, EDGARization, and State Filing: Navigating the regulatory landscape.
FINRA Filing Fee: Gaining credibility and approval for offerings.
Explainer Video: Communicating visions effectively.
Additional Services: Digital Transfer Agent Service, Investor Acquisition Marketing.
Ohanae Securities LLC: Administrative & Compliance Support, ATS Listing Fee, Success Fee.
Conclusion: Confidence. That's Ohanae.
Ohanae's pioneering approach and Web3 innovation are poised to reshape the OTC Securities landscape, unlocking a world of opportunities for investors and companies alike. With its competitive advantage, revenue drivers, and commitment to security and compliance, Ohanae sets itself apart as a transformative force in the world of finance. Together, we embark on a groundbreaking journey to shape the future of investments, empowering investors and revolutionizing the OTC Securities market. Confidence in our vision and solutions defines Ohanae – your trusted partner for a new era of capital markets.
Disclaimer
An offering statement regarding this offering has been filed with the SEC. The SEC has qualified that offering statement, which only means that the company may make sales of the securities described by the offering statement. It does not mean that the SEC has approved, passed upon the merits or passed upon the accuracy or completeness of the information in the offering statement. The offering circular that is part of that offering statement is at https://vdr.ohanae.com/projects/ohanae. You should read the offering circular before making any investment.
Ohanae Securities LLC is a subsidiary of Ohanae, Inc. and member of FINRA/SIPC. Additional information about Ohanae Securities LLC can be found on BrokerCheck. Ohanae Securities LLC is in discussions with FINRA about exploring the expansion of business lines for the broker/dealer. Any statements regarding abilities of Ohanae Securities LLC are subject to FINRA approval and there are no guarantees FINRA will approve the broker/dealer's expansion.
Ohanae Securities is seeking approval to be a special purpose broker-dealer that is performing the full set of broker-dealer functions with respect to digital asset securities – including maintaining custody of these assets – in a manner that addresses the unique attributes of digital asset securities and minimizes risk to investors and other market participants. If approved, Ohanae Securities will limit its business to digital asset securities to isolate risk and having policies and procedures to, among other things, assess a given digital asset security's distributed ledger technology and protect the private keys necessary to transfer the digital asset security.