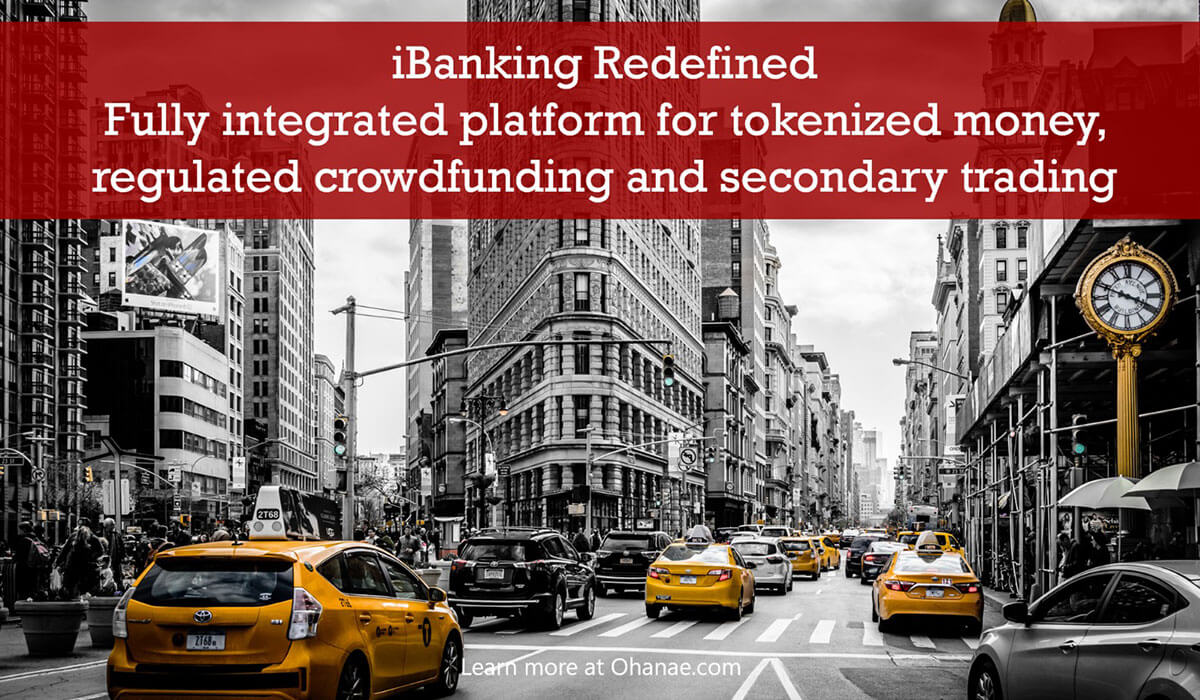 Published on March 25, 2020
---
Reinventing the Role of the Broker-Dealer in Light of the Pandemic Disruption
New York, NY – March 25th, 2020 -- Ohanae, an institutional-grade asset tokenization platform, is creating a new opportunity for investors , powered by its stablecoin, the Ohana Coin (OHA). OHA is a stablecoin backed by US dollars, which are held in reserve by regulated financial institutions. Ohanae is reinventing the role of the broker-dealer in light of the disruption caused by the COVID-19 ("novel coronavirus") pandemic by creating a platform to provide liquidity and empower companies to raise capital.
Defining Moment of a Growing Pandemic
Whole sectors of the United States' economy have gone dark in an effort to slow the spread of COVID-19. The number of Americans under virtual lockdown grew to over 80 million and counting as restrictions have tightened. With each day, an unprecedented stoppage gathers more force as restaurants, movie theaters, sports arenas, theme parks, offices, and more, close to shield their patrons and employees from contracting the virus. The resulting economic slowdown, which is sending several million workers streaming into the unemployment line, is outpacing the federal government's efforts to respond. In fact, many analysts are predicting that the decline will be sharper and more painful than the 2007-2009 financial crisis. In the context of raising capital, this slowdown means that both going concerns and entrepreneurial ventures will find it more difficult than ever to secure the financing they require.
Investment Banking Redefined
The United States is falling into a sharp economic contraction, which will have a marked impact long after businesses are able to reopen. However, as is often true in such circumstances, the recent market turmoil has presented an incredible investment opportunity for investors that have cash available and are able to remain emotionally disciplined.
Ohanae is redefining the role of investment banks and broker-dealers by disrupting the way companies raise capital and providing liquidity to investors. Ohanae is positioned to address the market demand for issuers and investors with a special focus on pre-IPO companies that are currently underserved.
Ohanae will be seeking approval from the U.S. Securities and Exchange Commission (SEC) and the Financial Industry Regulatory Authority (FINRA) to operate as a registered Transfer Agent, Broker-Dealer and acquire and operate a proprietary Alternative Trading System. Ohanae intends to provide services across multiple industries and establish a network of institutional capital providers to match an organizations' need for funding with viable sources. In doing so, Ohanae believes it will both increase the liquidity of many investments and empower businesses to seek funding by lowering the barriers-to-entry that exist in the traditional broker-dealer model, such as high fees, complex regulations, and limited access to both bankers and investors.
By leveraging its propriety technology, and combined with its in-house investment banking knowledge and resources, Ohanae is uniquely positioned to assist both companies seeking to raise capital, and investors that wish to have access to greater liquidity.
Ohanae's full suite of Investment Banking Services:
Capital structure analysis.
Business plan, review and analysis along with financial modeling.
Due diligence services, including financial analysis, valuation analysis and industry research.
Cap Table Tokenization for Equity Token Offering.
Assist in preparation of offering materials.
Introduce issuers to qualified investors.
Investor onboarding, compliance and transaction management services by conducting automated Know Your Customer / Anti-Money Laundering (KYC/AML) searches on the Ohanae Platform and performing Accredited Investor (AI) accreditation verifications.
Liquidity via Ohanae's Alternative Trading System (ATS).
Assist in investor relations.
The Power of Thousands of Investors
In April 2012, the JOBS Act (Jumpstart Our Business Startups Act) was signed into law. In June 2015, the SEC promulgated Regulation A+, which allowed companies to raise up to $50 million per year from the general public (specifically, non-accredited investors). The enactment of this regulation ushered in the equity crowdfunding revolution that allows everyday people to participate in a greater number of investment opportunities. Simultaneously, Reg A+ permitted companies that were shutout of fundraising in the capital markets to participate in public offerings.
Recently, the SEC revamped Reg A+ with a list of proposed enhancements, which include raising the Reg A+ ceiling to $70 million per year. This is great news for companies and the investing public. Additionally, these changes mean the Ohanae Platform could raise up to $70 million per year for any qualified company.
Institutional investors and professional money managers are only a fraction of the people who make investment decisions. Most everyday investors are not fully invested in the stock market. Furthermore, the 4,700 companies that are listed on the NYSE and NASDAQ only account for a tiny fraction of the overall estimated 6 million businesses in the US today , with new ventures being formed every day. Equity Token Offering provides investment opportunities where the investor can invest directly into a company where they know the management team and can support the company's growth. In this way, through Ohanae's platform, it becomes possible for businesses can raise funding directly from investors eager to diversify their portfolios and gain exposure to opportunities that were previously unavailable to them.
Building Trust for the Capital Markets with Innovation
The Ohanae Platform has the potential to unlock capital for pre-IPO companies and other asset classes and expand and strengthen capital markets. The Ohanae Platform is an end-to-end solution that manages the processing of investors from log-in to capital received, as well as equity token issuance, secondary trading, and the tracking of equity token ownership on blockchain throughout the lifetime of an asset and ensures that the digital manifestations reflect the real world assets they back.
The Platform is built on the Ohana Blockchain and is completely integrated and designed to address non-repudiation, privacy, confidentiality; and verifiability of claims with consent-driven models. The platform's advanced features include:
Immutable, Fast Transaction Finality (one second block time)
KYC/AML Verified Identity
Stablecoins for Settlements
Equity Token Protocol
Private Key Protection
Masterkey with Passphrase Recovery
Password-less login
Secure File Sharing
Ohanae App (patented technology for password protection and secure file sharing)
For more information please visit: Ohanae.com.