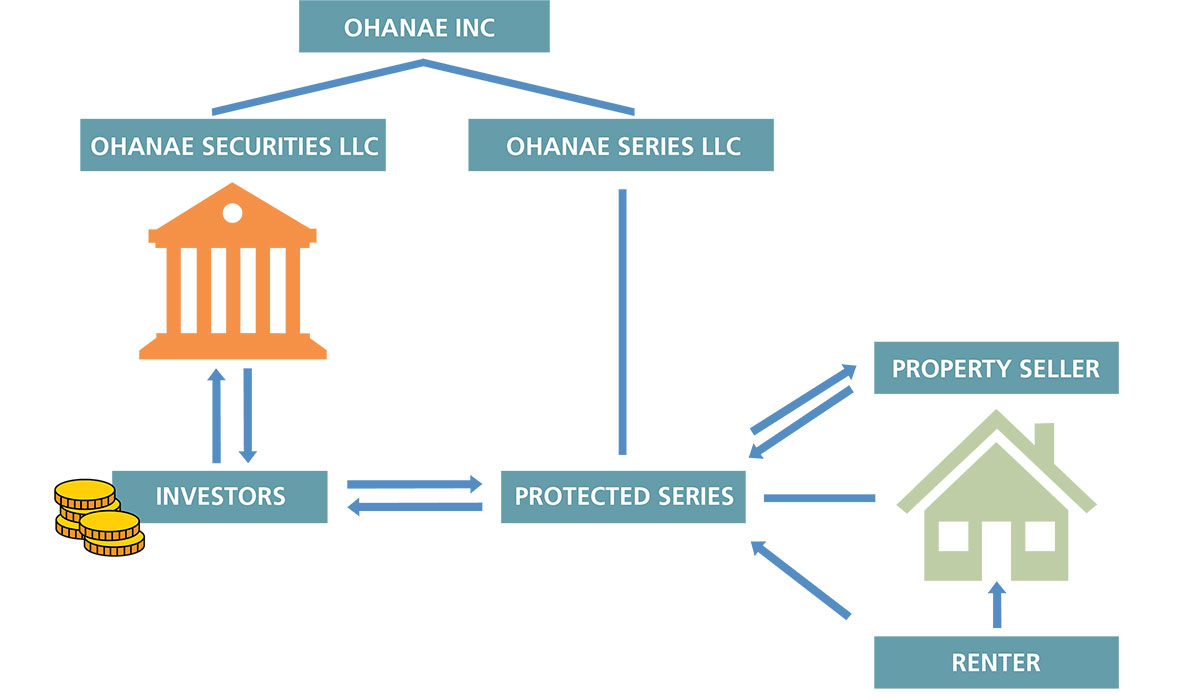 Published on May 10, 2023
---
Ohanae, Inc., ("Ohanae") is at the forefront of real estate innovation with its latest initiative. Ohanae Series LLC ("Ohanae Series") will be established in partnership with a New York-based real estate expert. Ohanae Series aims to simplify the real estate transaction process, broaden investor access to real estate investments, and improve investment liquidity.
Using Web3 technology, and digital asset securities, Ohanae Series seeks to offer a real estate tokenization service that would allow sellers to tokenize their properties, enabling multiple investors to purchase a fractional ownership in a single property. These tokens are created using the Ohanae Equity token protocol and sold as equity tokens in Regulation A+ offerings, accessible to domestic or foreign investors, as well as to institutional, accredited, or retail investors.
One of the key advantages of Ohanae Series is its use of a Series LLC structure, which streamlines property sales and minimizes costs. The Series LLC is responsible for the initial property assessment, rental management, and maintenance. When a seller engages Ohanae Series to sell their property on the platform, a new protected-series LLC will be set up to raise capital via a tokenized Regulation A+ offering of membership interests. Each protected-series LLC represents a single property, allowing Ohanae Series to manage hundreds of properties with ease.
Ohanae's internal deposit coin, the Ohanae Coin (OUSD), serves as the sole means of payment and settlement for all transactions on the Ohanae Platform. Issuers are required to accept OUSD in exchange for issuing equity tokens, providing a secure and seamless transaction process.
In addition to its tokenization service, Ohanae Series intends to offer a range of services, including Virtual Data Room (VDR), Know Your Customer (KYC), Payments and Settlement Services, and Secondary Market. The VDR contains property-related documents, such as appraisals, inspections, titles, and purchase agreements, as well as documents for the security issuance used to fund the real estate projects. Only KYC-verified investors are allowed to review the materials.
Ohanae Series' commitment to innovation and efficiency has earned it a place as a leader in the real estate industry of the future. Its integrated approach to fractionalized ownership and Web3 equity crowdfunding and trading technology offers to revolutionize the way we buy and sell property, providing increased accessibility, liquidity, and transparency for investors.
In conclusion, Ohanae Series LLC is a real estate technology company that offers a comprehensive suite of services to streamline the real estate transaction process, broaden investor access to real estate investments, and improve investment liquidity. Its innovative coupling of the Series LLC structure and digital asset securities makes it a prospective game-changer in the real estate industry.
Disclaimer
An offering statement regarding this offering has been filed with the SEC. The SEC has qualified that offering statement, which only means that the company may make sales of the securities described by the offering statement. It does not mean that the SEC has approved, passed upon the merits or passed upon the accuracy or completeness of the information in the offering statement. The offering circular that is part of that offering statement is at https://vdr.ohanae.com/projects/ohanae. You should read the offering circular before making any investment.
Ohanae Securities LLC is a subsidiary of Ohanae, Inc. and member of FINRA/SIPC. Additional information about Ohanae Securities LLC can be found on BrokerCheck. Ohanae Securities LLC is in discussions with FINRA about exploring the expansion of business lines for the broker/dealer. Any statements regarding abilities of Ohanae Securities LLC are subject to FINRA approval and there are no guarantees FINRA will approve the broker/dealer's expansion.
Ohanae Securities is seeking approval to be a special purpose broker-dealer that is performing the full set of broker-dealer functions with respect to digital asset securities – including maintaining custody of these assets – in a manner that addresses the unique attributes of digital asset securities and minimizes risk to investors and other market participants. If approved, Ohanae Securities will limit its business to digital asset securities to isolate risk and having policies and procedures to, among other things, assess a given digital asset security's distributed ledger technology and protect the private keys necessary to transfer the digital asset security.